Heading out on the water for a training session on a non-regatta day?
Safety is the responsibility of all members of the rowing community, including athletes, coxswains, coaches, officials, volunteers and spectators. Please ensure you have checked the weather forecast and are familiar with the safety information specific to Lake Ruataniwha before heading out on the water.
---
Important notices from SIR for training on Lake Ruataniwha:
All Clubs, Schools and Individuals should take note of the rules regarding 'Supported', 'Observed' and 'Unsupported' rowing as defined in the RNZ Water safety Code 2016, section 2.1 together with the rules regarding 'Equipment for Safety' in section 3.
All Clubs, Schools and Individuals who intend using Lake Ruataniwha for training are to 'Sign In' for training using the digital form below, or to complete a Notification to hold rowing training on Lake Ruataniwha form upon arrival at the Meridian Rowing Centre, Lake Ruataniwha.
The Training Flow pattern on the rowing course will be in force at ALL times other than during Regattas & Championships, this is:
Lanes 0, 1, 2, 3 & 4 for traffic proceeding to the start.
Lane 5 is to remain empty at all times.
Lanes 6, 7, 8, 9 & 10 for traffic returning to the finish and boating area.
The boat ramp "on water" and "off water" areas are to be used at ALL times.
All rowing boats are requested to stay clear of the water ski zones and the main part of the lake when these areas are in use for water skiing and other high speed power boating. All Coaches with motorboats must be aware of the areas provided for non-powered craft (particularly the bay area from the 1000m mark to the start zone). Refer to Environment Canterbury Map below.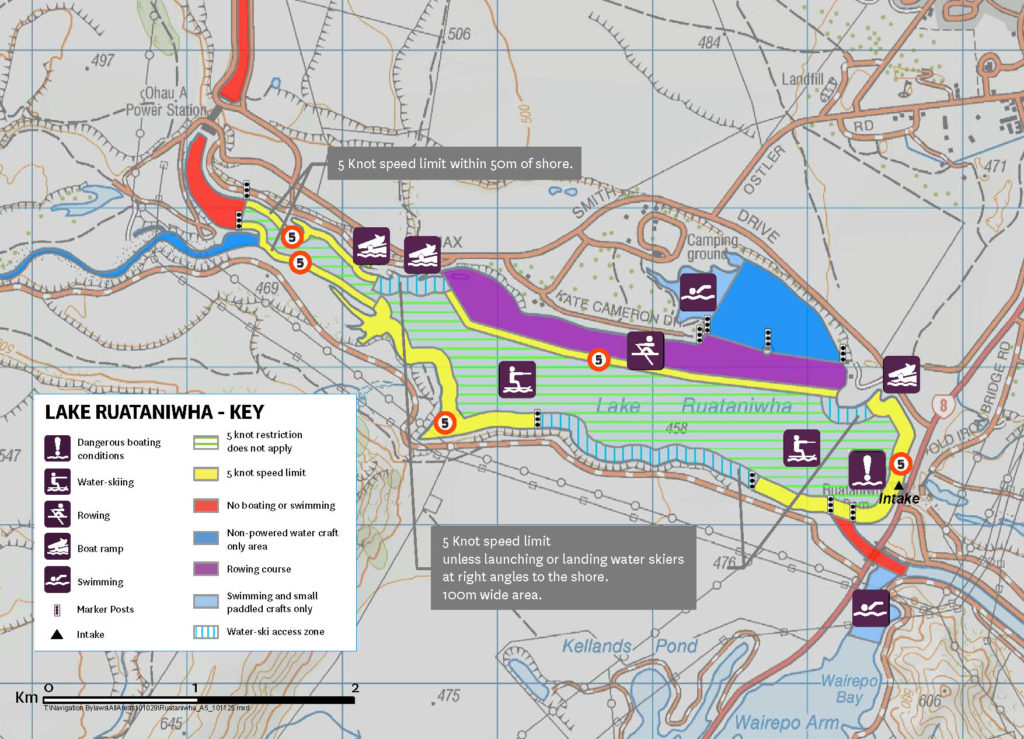 ---
Training Notification form:
A printable Training Notification form is available here. This may be printed and supplied to the Facilities Manager when you arrive for camp and prior to crews going on the water, OR use the form below to notify the facilities manager of your intention to train.
COMING SOON… SIR H+S APP!
---
Lake Ruataniwha Safety Video
Featuring: Gary Manch, Canterbury Harbourmasters Office
Safety Boat Video