The 44th SI Rowing Annual General Meeting was held at Lake Ruataniwha last Friday, 2nd October. Attendees enjoyed the opportunity to catch up prior to the R2K and Interprovincial Championship Regattas over the weekend after the (slightly longer than normal) winter hiatus. It was great to see so many familiar faces back again, ready to dive into a new season.
During the AGM, the board were very pleased to award life membership to Warren Blazey (CRA) and Lex Clarke (ORA) for their significant contributions and service to SIR over many years. We thank you, gentlemen, for your continued support and service to SIR. Citations for both Warren and Lex are included below.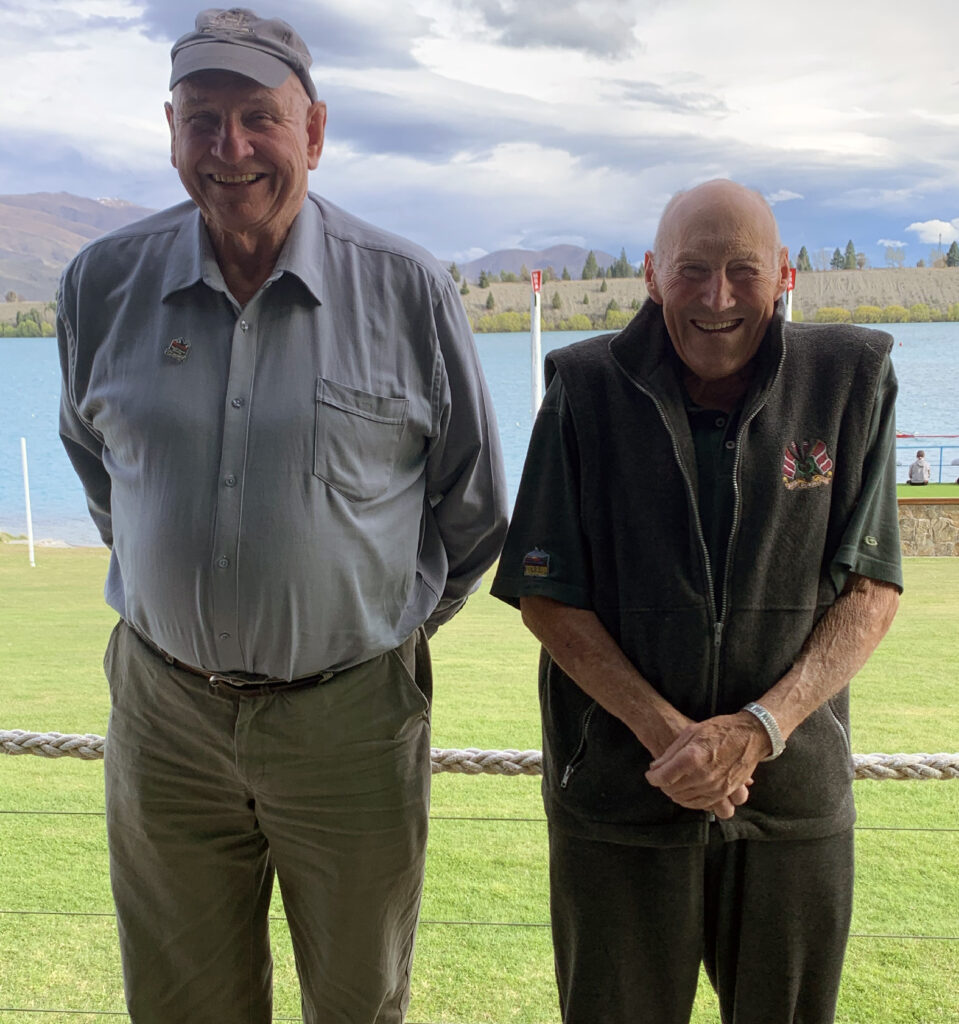 Alex Clarke
Lex, as he is more commonly known to us, is a former NZ Rower who competed in the NZ Men's Eight at the Tokyo Olympics of 1964.
After his rowing career was over, he started putting some time back into the sport and at a Championship regatta at Lake Waihola in the 1970's, he was talked into being tested for his Starters licence. Those were the days when Licences for Umpiring, judging and starting could be obtained separately.
Lex's involvement in his capacity as a Starter at Ruataniwha, began at the time of the first regatta here in 1985. Since that time, he has attended many Ruataniwha regattas each year, progressing to be Chief Starter at several of them, more especially for the Otago Champs regattas over the years. He has made himself available for the many Maadi Cup and NZ Championship regattas held here and has also attended a number ofthose major regattas, at Lake Karapiro over the years.
In all that's 35 years of dedicated South Island service as a starter, in an area where you don't even get to see who wins the races, 2000 metres down the track.
Lex can be relied upon to be up at the start the day before the regatta to help to set up all the equipment ready for racing to start the following morning.
Along with starters and aligners such as Warren Blazey, Ray Weise, Gerry Dwyer, Des Borgfeldt and others, they made an impressive bunch of starters who, for many years, blazed the way for the new breed of starters we see involved today, with updated computer equipment brought in to assist.
The Otago Rowing Association with the backing of the North End Rowing Club have no hesitation in nominating Lex Clark for Life membership of South Island Rowing Incorporated.
Royce Wilson for Otago Rowing Association
Warren Blazey
The Canterbury Rowing Association nominates Warren Blazey for life membership of South Island Rowing. Warren has been involved in the activities of SIR since the early days. Warren is part of the starting team going back to the early days of racing on the lake. He has been a faithful worker at working bees over many years. In the early years Warren was the organizer of the social side of the early regattas when beer tents were part of the regatta.
Warren also held office in some of the past committees.
Warren has always been an outgoing person and many of us have enjoyed many hours of listening to his many adventures in life. Over many years Warren has help many of us in the projects that have made this rowing complex what it is today. Over many years Warren would arrive at a regatta with some steel screws and tools in hand to repair or improve part of one the buildings to make life better for all of us. His ability to see the little things has been greatly appreciated by us all.
It is with great pleasure that we nominate Warren for life membership of South Island Rowing.
Pat McQuinn for Canterbury Rowing Association