There has been much to celebrate in South Island Rowing this season, including the fact that the last four regattas have all had women Chief Umpires. Christine Moffat (NZ Master/Aoraki Regatta), Lauren Farnden (Otago Championships), Michèle Hawke (Canterbury Championships) and Vanessa McIver (South Island Championships).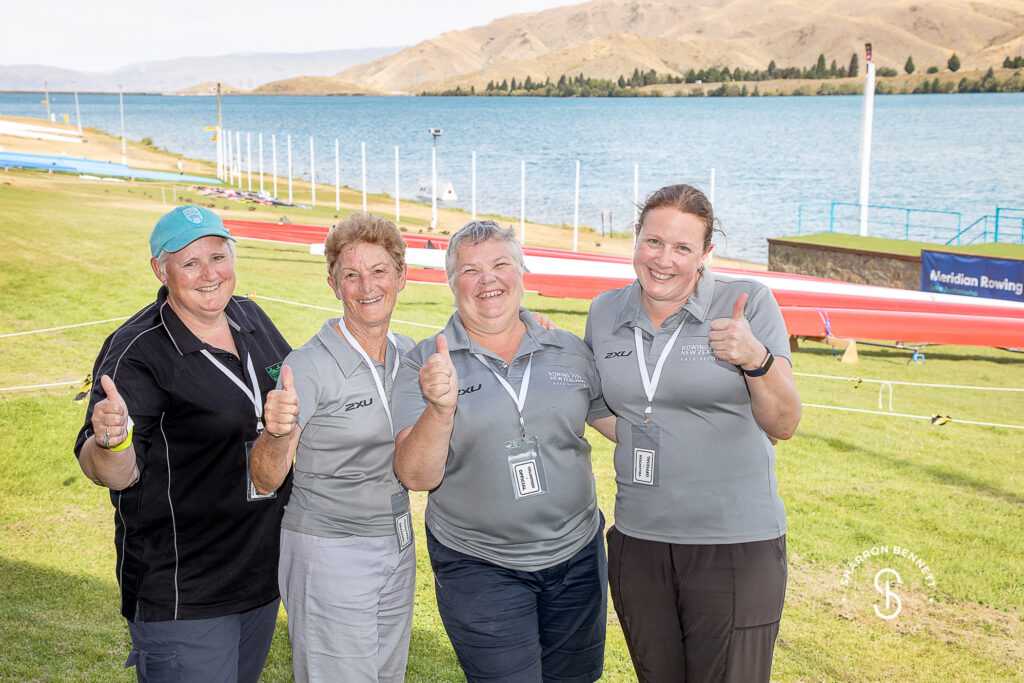 This is not a matter of gender balance/equity for the sake of it, but that each of these women has worked her way up through the umpire training programme to be able to take on senior leadership roles. All four are pleased to be part of an organisation (SIR) that encourages and enables women to take on these leadership roles. Vanessa, as the only woman FISA qualified umpire in New Zealand, has encouraged more woman in the South Island to become umpires and mentored trainees to learn the required skills and become proficient and eventually qualified. Christine, Lauren and Michèle are now doing the same with the next group of trainees and are pleased some younger women are coming through the programme.
SIR is proud of the environment that is created by volunteers at the Meridian Rowing Centre. We celebrate these women and their accomplishments, and look forward to seeing more talented people taking on the challenge of becoming a Race Official in the future. Vanessa, Michèle, Lauren and Christine share some of their thoughts and experiences below.
Michèle Hawke (Chief Umpire, Canterbury Championships)
"I got involved with rowing as a way to support my daughter who was at boarding school. John Wylie encouraged me to train as an umpire and I feel fortunate to have benefited from learning from many umpires both in the North and South Island to gain the experience I have. Ruataniwha is my happy place because I get to be part of a wonderful sport but I also get to share time with the friends I have made."
Christine Moffat (Chief Umpire, NZ Masters Champs/Aoraki Regatta)
"Being chosen as a Chief Umpire for the first time several years ago was a proud moment, that the management of SIR had faith in me to step up and lead others to run a successful regatta. It is important that the boat park trust organisers to run a fair and friendly regatta, and I like to think that I work hard at that. The opportunity to mentor new volunteers and catch up with old friends keeps me coming returning to Ruataniwha."
Vanessa McIver (Chief Umpire, South Island Club Championships)
"I always loved Rowing, from being a baby boat holder to becoming a FISA accredited umpire. Rowing is so beautiful to watch and knowing how technical it is love being part of this sport.
The Chiefs role is generally a challenge, juggling 60 odd volunteers to ensure all aspects of the event are covered and that everyone is getting an opportunity to try new roles. Also giving the trainees an opportunity to experience all aspects to ensure they want to keep helping.
I have several highlights from my involvement in rowing. Winning a medal at world masters as a rower, setting up the Twizel club as a young girl (as I really wanted to row), and also gaining international level as an umpire.
Lauren Farnden (Chief Umpire, Otago Championships)
"I was initially encouraged to take up officiating at smaller local regattas. I found that becoming a race official complemented my role as a coach as it gave me a better understanding of the rules and the sport as a whole. Once I started volunteering at Twizel regattas I felt very welcome and there was lots of encouragement from other Chief Umpires to work towards taking on Chief roles. I enjoy the variety of the roles that officiating brings. Whether it's interacting with the athletes at weigh in and control commission or the intensity of the start zone and finish judging to being on the water umpiring races.
In Twizel it takes 60-70 officials and volunteers to run a single regatta. As Chief Umpire I was very aware of the importance of running a safe and fair regatta for the athletes but you also need it to be smooth and enjoyable for the officials. Without the volunteers coming back weekend after weekend then our sport couldn't take place."