At 8:00 am 6 November Mark Taylor will sit down on an erg at the Auckland Rowing Club and attempt to row 100k to raise money for the Heart Foundation. 100k is a challenge for any rower. For Mark it's tougher by an order of magnitude. For the past sixteen years he has been living with a degenerative neurological disorder, neurosarcoidosis. He cannot see, he can barely walk and he has lost strength in his right arm.
But that hasn't stopped him. In April 2019 he swam across Auckland Harbour to raise $150,000 for neurological research. This year he's hoping that rowers from throughout the country will get behind him.  Rowing NZ has been extremely supportive in promoting the campaign and it would be fantastic to have clubs and schools involved too. Let's do it together, because in tough times we can all do with a little more heart!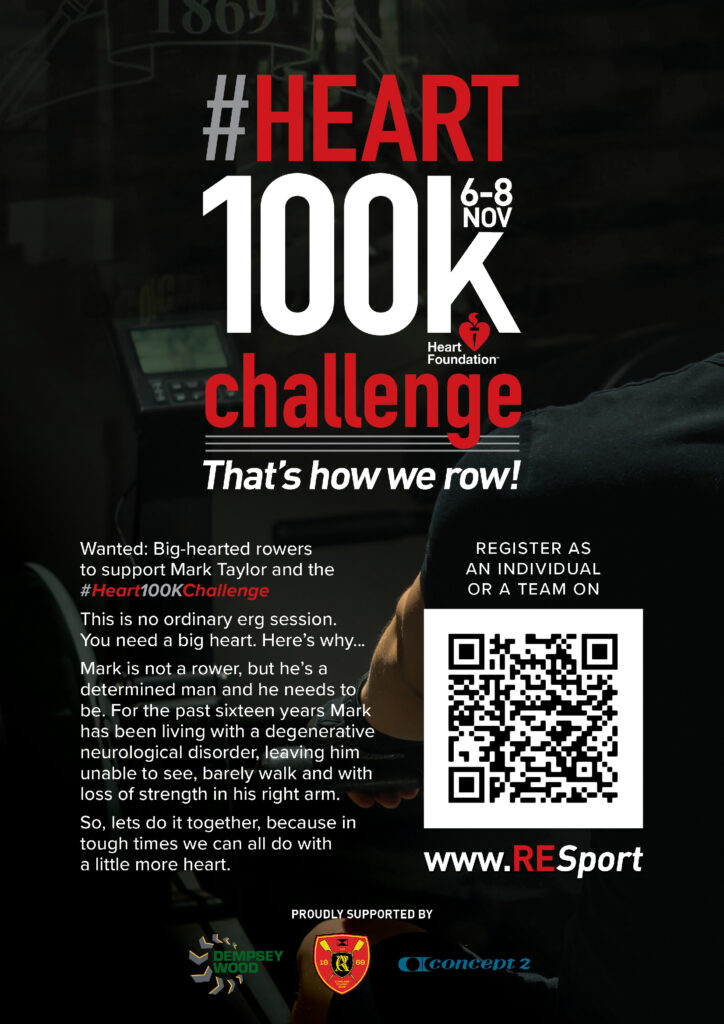 Here's what you can do:
Print and display the Poster in your clubhouse
Post this link on your Facebook pages and other social accounts
Some questions:
Q. How do I register?
A, Online on the #Heart100k Challenge website. You will be sent a link that allows you to record and track your progress
Q. Do I have to row the whole 100k by myself?
A, No. Form a team with as many people as you want.
Q. Do I have to row the whole distance at one sitting?
A, No you have form 8:00 am Friday until Midnight Sunday to record your time?
Q. Do I have to row at my club?
A, No. Your gym. At home. Anywhere you can find an erg. Just record the distance and log it on the event page
Q. Does my team all have to row together at the same time?
A, No. You can row together or at separate times and in separate places. You may want to arrange erg sessions over the weekend at your clubhouse or gym, because companionable erging is easier and more fun.
Q. How do I keep track of the distance I have rowed?
A. Log individual times under your team name.The website will keep track of the totals and show your progress
Q. Do I have to collect money on behalf of the Heart Foundation?
A, No. Mark has set up a Givealittle page so they can give online. You don't have to chase people for money after the event.
Q. How do people donate?
A, Send friends, workmates and family the attached pledge form and get them to donate directly. They can enter your team name when they make their donation
Q. Can we post on social?
A,             Yes. Please. Set up a Facebook Event page (or share this one). Tags include #Heart100K Challenge #TogetherWeCanDoThis #BigHeartedRowers